March winds are quite blustery around here. Now our stove insert is up and working, there's nothing nicer than a warm spot by the flames, and a plateful of the 'coddle' that's been simmering on top all day. This warm stew makes good use of bacon, sausage and winter vegetables. It can be made quickly, but needs at least a few hours of cooking to really bring out the flavors. If your fireplace is still on hold, try a crockpot or kettle, instead.
DUBLIN CODDLE
(this version adapted from
AllRecipes.com)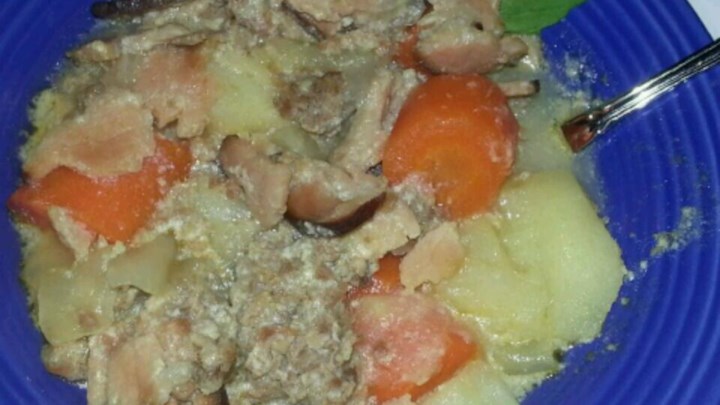 1 pound Irish sausages (look for 'bangers,' or substitute breakfast sausage links)
1 pound bacon, chopped
1 pound potatoes, peeled and chunked
2 onions, chopped
6 carrots, chopped
1 cup of sliced mushrooms (a cup or so of diced cabbage is good, too)
1 quart chicken stock
1 quart milk
salt and pepper to taste
Directions:
Saute your bacon until cooked; add onions and sausage to brown, as well. Drain off part of the bacon fat, then dump everything else in. Cook gently for at least 30 min. -- but for the best coddle, let it simmer for 2-3 hours, or 5-8 hours (on low) in a crockpot. Serve hot in large soup plates, along with a good beer.