Welcome to the fun world of holiday cooking -- it's the perfect time to try new foods, and recreate the ones you loved as a kid.
All week, we'll be looking at popular recipes for Easter. But before we head there, 'Boiled Bunnies' that are healthy and easy to make. Kinda cute, too!
Boiled Egg Bunnies
Supplies: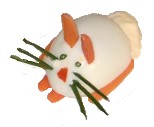 one hard boiled egg (makes two bunnies)
chives
two small triangles of red pimento (taken from a stuffed olive), red pepper or radish for the noses
six small baby carrots
one teaspoon of mayonnaise for each bunny tail
knife
toothpick
Egg Bunnies - Instructions:
Boil an egg and let it cool. Peel, cut in half lengthwise, and place both sides on your serving plate.
Use the pointed end for the bunny's face; cut a small hole, and insert the red pimento (nose). Insert a small slice of chive on each side for the eyes, and longer pieces for the whiskers.
Slice three baby carrots in half lengthwise for ears; trim as needed, then insert for both ears and paws. (Use the photo for help.)
Add a blob of mayo in the back for a tail, and serve with a smile.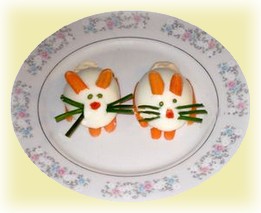 For more, visit the
All Free Crafts.com site
.