Split pea soup...thick, warming and a great accompaniment to a crusty roll or slice of bread. Add some fruit and a cookie, and you've got a meal that will take you places.
The basics are simple: dried green split peas; potatoes, onion and carrot; and some kind of flavored broth. After that, you can add all sorts of things, including celery, turnip, bacon, and such.This is a strong soup, though -- and the peas will be the primary 'voice.'
Save yourself money and feel brilliantly frugal by using a leftover ham or porkchop bone; make sure to remove it, dice the leftover meat, and stir it back into the bubbling pot.
(Warning: This soup solidifies when it cools...it reheats well, but you'll need to add extra water. And the 'new' soup tastes just as thick and hearty as before, as if you didn't add anything extra at all. One of the great mysteries in life...and an excellent candidate for "quick, extra people are coming in the door" meals.)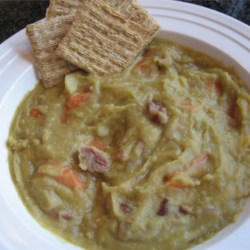 This version of split pea is from AllRecipes.com
HEARTY SPLIT PEA SOUP
Original recipe makes

6 to 8 servings
Directions
In a large stock pot, cover peas with 2 quarts cold water and soak overnight. If you need a faster method, simmer the peas gently for 2 minutes, and then soak for l hour.

Once peas are soaked, add ham bone, onion, salt, pepper and marjoram. Cover, bring to boil and then simmer for 1 1/2 hours, stirring occasionally.

Remove bone; cut off meat, dice and return meat to soup. Add celery, carrots and potatoes. Cook slowly, uncovered for 30 to 40 minutes, or until vegetables are tender.